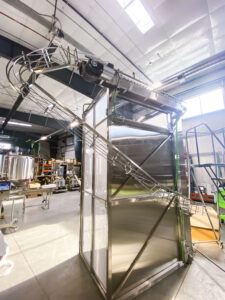 The value of the Canhusker can be seen in its robust stainless steel and aluminum construction that defies its affordable price tag. The Canhusker twist rinser travels back across the space already consumed by the machine itself saving up to 10 feet of precious floor space.
The Canhusker features easy loading of pallets with a pallet jack. It is the only depalletizer in the industry to use a servo motor for lateral sweeping of cans. This means zero maintenance, low energy, smooth, programmable movement and adjustable distance and timing with the push of a button.
The Canhusker. Built by Champions. Used by Champions.