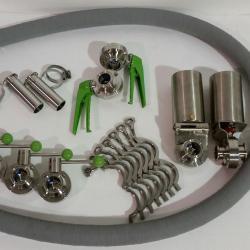 A clean brewery is a happy brewery.
The fact is cleaning is a large and critical part of a brewing operation and A.B.O. takes no shortcuts. Our CIP systems are durable and easy to use. When dealing constantly with near boiling temperatures and harsh chemicals, a CIP system should be safe to use, effective in cleaning and constructed with quality components specific to the application.
Our popular mobile CIP Trolley is a dual tank system constructed completely of 304 stainless steel. If you desire something a little larger, stationary, or more integrated, custom CIP skids are also possible.